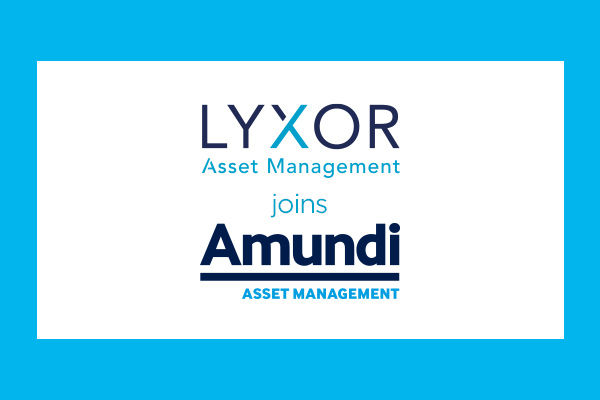 After 6 months of preparatory work and the finalization of Lyxor acquisition, Amundi confirms the strategic and industrial benefits of this project, and presents new ambitions and the organization for two key areas of expertise: passive management and liquid alternative investment.
The synergies enabled by this integration will be in line with what was announced in April 2021:
Run-rate annual cost synergies of ~€60m (pre-tax), full impact expected in 2024

Run-rate annual net revenue synergies of ~€30m (pre-tax), full impact expected in 2025
Founded in 1998, Lyxor totalizes more than €140bn1,2 in Assets under Management and advisory (AuM). Lyxor is one of the key players in the ETF market (€95bn1 of AuM, 3rd largest player in Europe with a 7.7% market share3) and has developed a recognized expertise in active management (€45 bn of AuM1), in particular through its leading alternative platform.
Thanks to this acquisition, Amundi benefits from strong levers to accelerate its development on the fast-growing ETF segment, while complementing its offering in active management, in particular in liquid alternative assets as well as advisory and OCIO capabilities, and fiduciary management.
1. Accelerate in passive management with a target of 50% AuM growth by 2025
The acquisition of Lyxor - the European pioneer of ETFs - propels Amundi Passive platform (ETFs, Index & Smart Beta solutions) to the position of European leading ETF provider3.  Collectively the combined ETF business represents over €170bn in assets under management1, resulting in a UCITS ETF market share of 14% for Amundi. 
The newly expanded ETF range will provide investors with efficient access to one of the largest, most liquid and most comprehensive UCITS ETF range available in the market. This industry-leading range of over 300 products includes some of the most compelling strategies particularly in ESG, Climate, Thematics, Emerging markets, and Fixed income.
In a market where size and scale are critical, Amundi passive platform's reinforced AuM of more than €282bn1 signifies a major step in anchoring Amundi unique positioning as the European partner of choice in passive management to both retail and institutional clients, worldwide.
The Amundi passive platform aims to increase its assets under management of 50% by 2025.          
Demand for passive management and ETFs in particular, has been undeniably growing over recent years among all type of investors. Their intrinsic benefits of cost efficiency and transparency supported by product innovation have contributed to confirm their value as efficient tools for both strategic and tactical asset allocation. This growth is also boosted by additional drivers such as the MIFID regulation on cost-transparency, the ESG transformation or more recently the increased digitalization of distribution channels.
2. Expand our leadership position in liquid alternatives with the creation of the Amundi Alternatives business line
The integration of Lyxor allows Amundi to enrich its active management capabilities with the addition of an alternative investment expertise, giving investors access to innovative sources of diversification and performance for their portfolios.
Amundi has made the strategic decision of setting up a dedicated business line for Liquid Alternatives named "Amundi Alternatives", thus complementing its range of investment solutions to best serve the needs of all of its clients around the globe, including institutions, private and wealth investors, and asset managers.
The Liquid Alternative business is currently worth more than €23bn1, including the fast-growing Liquid Alternative UCITS Platform (€6.3bn) and the Dedicated Managed Account Platform (DMAP) business, accounting for € 16.7bn of assets.
Amundi affirms its position as a leader in alternative investment, with the objective of increasing the Alternative UCITS platform by 50% by 2025 and accelerating the development of DMAP towards institutional clients internationally.
This ambition is borne out of Lyxor's 23-year proven track-record in the alternative industry, combined with Amundi's global distribution footprint. This new platform is well-placed to generate long-term and resilient growth thanks to Lyxor's historical position as a long-standing partner of trust to the best names in the global alternative investment industry, as well as to the world's largest and most sophisticated investors.
The Lyxor acquisition is another important step in the deployment of Amundi's strategy. It elevates Amundi to the 1st position of European ETF providers and enriches our active management offering with a leading position in liquid alternative assets.  The key managers of these two businesses have been appointed. Amundi is fully prepared to be the reference partner on these areas of expertise for both retail and institutional clients in Europe and in Asia, and thus to pursue its growth in two promising markets.

---
1. At 30/09/2021
2. Excluding advisory mandates not included in AuM according to Amundi's methodology ; Activities from Lyxor retained by Société Générale: structured asset management and other activities dedicated to private banking   
3. Source : Amundi, Lyxor, ETFGI, as of September 2021