Three big questions on passive investing and engagement
Monday 14 June 2021
Expertise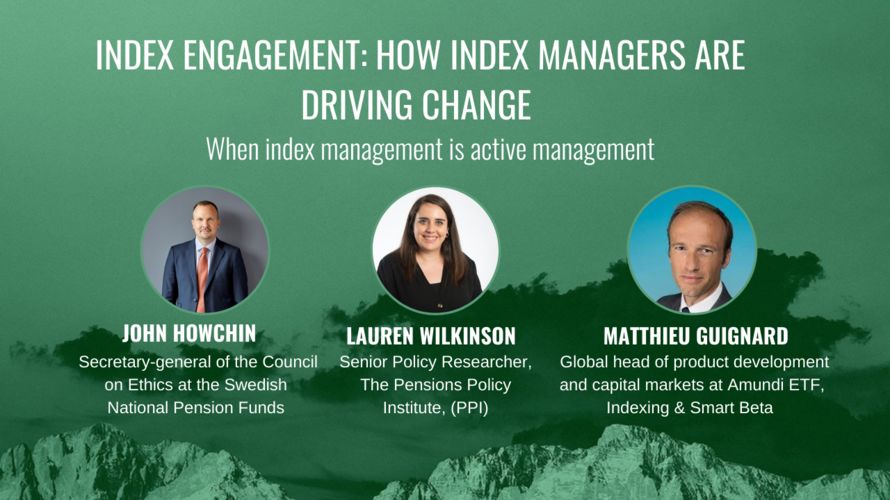 Engagement is becoming a driving force for positive change in sustainable passive investing, yet its efficacy is sometimes debated. Three key questions are: Is engagement just for active managers? How to engage? How effective can engagement really be in passive investing? Matthieu Guignard, Global Head of Product Development and Capital Markets joined a Portfolio Institutional ESG Club panel sponsored by Amundi to tackle these issues and more. Representatives from the Pensions Policy Institute, and the Swedish National Pension Funds' General Council on Ethics completed the panel.
The discussion opened with, "Is engagement just for active managers?" to which Guignard confirmed that engagement is a key part of the Amundi ETF approach to responsible investing. He argued there is not such a difference in engagement between passive and active managers, particularly in large asset managers that engage on behalf of all their clients. He explained, "The dialogue we have with the company is not different. We are holistic in our engagement between active and passive."
The conversation explored whether different investors, including those with small allocations to a broad range of varying investments - including passive strategies - may feel that their engagement could have a limited impact. But the panellists concluded that the significant power of engagement in terms of risk management, financial returns and the potential to achieve broader objectives for society refutes this.
"How easy is it to engage?" was another critical question posed by Mark Dunne of Portfolio Institutional to which Guignard stressed the importance of the role of ETF investors as long term asset owners. ETF investing allows the opportunity to influence and instigate positive change through engagement over time. At Amundi, engagement is viewed as a dialogue with companies to improve their sustainability profiles. By typically holding assets over the long term, ETF investors can benefit from their managers' role in returning year after year at AGMs to exert influence and ensure that companies are adhering to the requirements set within the engagement policy.
This led on to a discussion around, "how effective can change be if the threat of divestment is not there?" The panellists acknowledged that changing times have led corporate boards to become more open to engaging with investors. Additionally, the wider shift towards sustainability is a driver for their greater interest to engage. Guignard came back to the long-term nature of ETF investments, turning around the divestment question: "Because passive managers remain invested, unable to divest of stocks within an index holding, they have the opportunity to keep voting and keep engaging. This puts more pressure on a company to change its behaviour than the effect of divesting. Highlighting the efficiency of this process he added, "The longer the investment, the more efficient engagement can be."

Furthermore, Guignard referred to companies' ESG ratings and the role played by index providers in improving corporate sustainability profiles. "Companies that are less well-behaved will inevitably have lower ESG ratings, and are more likely to be removed from the index by the index provider." This supports the rationale behind engaging for positive change as being advantageous to the company, its shareholders, and wider stakeholders.
The discussion later turned to whether engagement is really a necessary element of responsible investing, what it means to vote against the board and concluded with insights into what is really needed for successful engagement.