Amundi celebrates double win at ETF Stream Awards
Thursday 16 December 2021
Award
Amundi's leading position in the ETF market was reinforced following a double win at the inaugural ETF Stream Awards held in London on 2 December. Amundi was recognised in the key categories of ETF Issuer of the Year and ESG ETF Issuer of the Year.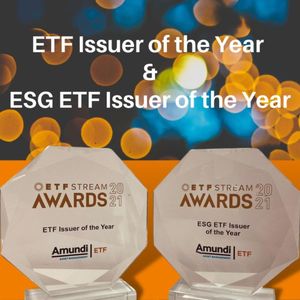 Within the submissions for these awards, we highlighted the commitment of Amundi ETF to sustainability as a strategic priority alongside cost-efficiency and innovation, reflected in accelerated growth over the last 12 months.
ETF Stream is a leading media outlet covering all aspects of ETFs across Europe, Australia and Asia. Their newly launched awards aim to bring together the ETF ecosystem. Following a rigorous assessment of the nominations, the editorial team at ETF Stream selected the shortlist. Subsequently, a judging panel of 10 external experts from across the European ETF market analysed the submissions and cast votes to determine the winner of each award.
Amundi was selected as a winner from a group of 26 industry peers, and we are delighted to have achieved this success and to be the only asset manager presented with two awards.