Amundi ETF Trend Report - September 2018
Monday 08 October 2018
Expertise, Video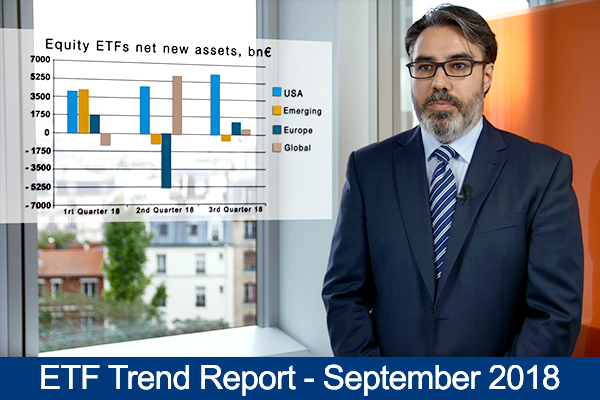 After a pause in the second quarter inflows accelerated again on the European ETF market: net new assets amounted to 11.6 billion € over the last three months, bringing the total to 37 billion for 2018.
Regarding equities, on one hand some major trends still appear strong in the third quarter: US equities top the list, over the quarter and year to date, while emerging countries continue to experience negative flows. On the other hand other trends seem to have reversed: European equities have found appeal with investors, bringing in more than one billion € over the period, and flows on global equities have almost dried up while they represented the majority of subscriptions in the previous quarter.
On sector exposures, defensive stocks have been favored by investors: they represent more than 80% of the flows allocated to sector ETFs. We can observe the same cautious approach within the factor universe since Minimum Vol and Quality factors have captured most of the billion € allocated to the Smart Beta universe over the quarter.
In the bond universe there is a renewed interest in European and US government debt. To this heavy trend of 2018 we can now add a turnaround on emerging government debt: after 2 quarters of outflows this exposure gathered 800 million € over the last three months.
On the corporate debt side, the reversal outlined at the beginning of the summer gained momentum as more than 1 billion € was raised, mainly driven by floating rate bonds.
Finally, it can be noted that the interest in commodities has considerably faded. Outflows totaling 2 billion € have been observed, despite prices that continue to be well oriented.